So if you've been following my blog then you know it's mostly about my life: lessons and triumphs coupled with a few revelations here and there so I would be remiss if I didn't include something that I felt so confident about and completely failed at. Honestly, I just knew I had the answers and it would take off without a hitch but in all actuality it revealed that I had a lot more growing that needed to take place.
For years I struggled with making friends and keeping them. When I recommitted my life to Christ it seemed like that struggle got more real by the minute. It was difficult for me to find a group of friends who were on the same journey as I. It was either I was "too new" in my faith walk and not churchy enough or I was maybe too churchy to a group of friends that weren't quite there yet. Either way, trying to find that happy medium was difficult.
I had this burning desire to connect with like minded women and I had prayed to God and He revealed something to me: Soul Sisters.
Soul Sisters would be a group of women of any age and walk of life that desired the same sister like connections that I did. We would gather and share thoughts and experiences and work to establish a true friendship. Everything was great! I had the women that were eager to participate but still something was missing and I couldn't quite figure out what it was. During the planning stages I was struggling to commit to more than just that initial meeting. Those should have been red flags but I didn't harken.
You've heard the saying that "everything God gives to you may not always be for you but it may be for someone else"? Well if not, you've heard it here first. I can't say that Soul Sisters wasn't a God idea because it most certainly was but I don't think it was the time for it to be developed. And honestly, I may not have been the person that should have birthed it.
It wasn't until three months after the revelation that God revealed to me what I was supposed to do with the desire to connect women and it wasn't for me to do on my own. He wanted to me use that passion to sow into another ministry. (Fearfully and Wonderfully Made: A Women's Restoration Ministry www.mattersoftheheartgathering.com). Same desire and passion but different avenue to get there...
I can be transparent and admit this because it is my truth. God is not a God of confusion nor does he approve of indecisiveness. When God gives us something He's pretty sure about it. He doesn't reveal his most sacred thoughts to us and then hit us with a "Sike! Just playing, I take that back." He's confident in it and He expects the same from us. I should have listened to the spirit when the red flags appeared. I should have sat my tail down when the person I wanted to facilitate along side of me opted out. I should have listened.
Listen.
Lesson learned: Don't be so fast to act. Instead head into prayer and listen for God to give you the green light. ​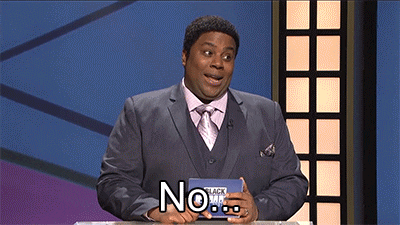 ​
Ever wonder why God never gives us a full and complete glimpse into our or future? This is why! We would take it and run with it. Just like me in this situation...we wouldn't know what to do with ourselves. It would be like the game show Jeopardy and we read that first clue, then hit the button too fast without fully having all the facts and then boom we've lost it all.
Seriously, I don't want that to be you. Heck, I don't want it to be me all over again. Which is why I felt that it was important that I share one of my not so glamorous moments with you and to help you understand that what is for you, is for you. You won't have to question it. You won't have to second guess. You will know and it will be a for sure thing. And if you end up birthing something that's not for you then well….it won't fully blossom to its full fruition. So if you feel led be sure to listen closely to His voice. He'll tell you when to go. And if you can't quite hear him that means be still... ;)
Obedience is everything.
-Signed a Heart put in Check ❤️